Brisbane Portrait Prize 2022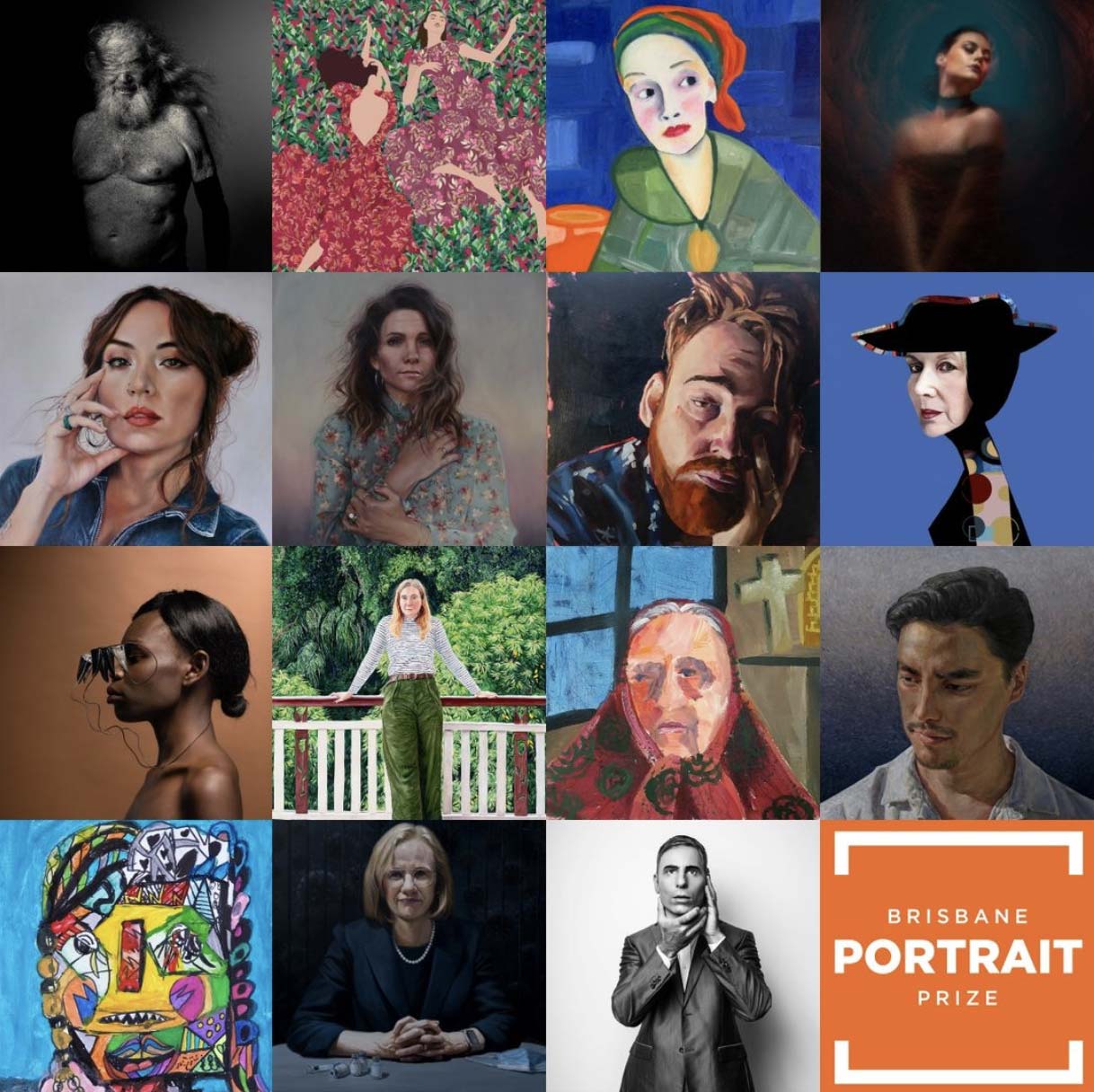 Birrunga Gallery has had the pleasure of again being involved in this year's Brisbane Portrait Prize through our title artist Birrunga Wiradyuri, as well as resident artist Kane Brunjes. Both artists had their submissions chosen and presented in the Brisbane Portrait Prize Finalists Exhibition at the Brisbane Powerhouse, New Farm, running from the 28th of September to the 30th of October 2022.
Pictured left is Kane's finalist's exhibition work for 2022, 'With my Old People'
Excerpt from the Brisbane Portrait Prize web site:
"This commanding portrait is a personal reflection on the importance of Country and respect for Ancestors. Kane Brunjes has positioned himself at the front and to the side, leaving space and attention in the work for the influence and impact of ancestors and land.
He says: "This work is a viewing into how I see and walk in my existence. I am surrounded by my Ancestors, something I remind myself of regularly. Faces and figures are seen throughout the piece, these are my Old People and a reflection of who I am.
"The sight of Country highlights its brilliance, with thought to its health being of the utmost importance. The object held in my hand are balance scales. This being a representation of trying to find balance within the different aspects of our lives.""
Please enjoy a couple of background pics of Birrunga's process. Our thanks also to our friends at Matisse Framing who we use exclusively for all of our framing needs. It's important to note that the frame of a work is judged as a part of the work itself in competitions. Understandable then the value placed on craftsmanship and skill in presenting works in frames that actually enhance/improve the piece. Matisse pulls that off every time.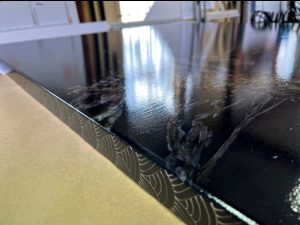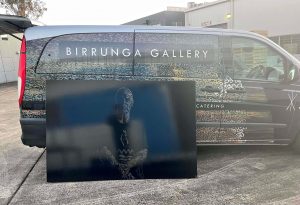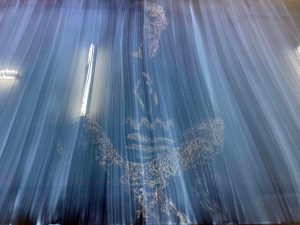 We are thrilled to announced that once again Birrunga Gallery is partnering with Brisbane Portrait Prize to present the BPP Indigenous Artists Showcase- a special exhibition featuring First Nations artists and sitters. From the Opening Night on the 2nd of November, Birrunga Gallery will host a selection of artworks by Indigenous Artists who are entrants, including finalists, in this year's Brisbane Portrait Prize.
The whole team at Birrunga congratulates all of this year's Brisbane Portrait prize winners, including winner of the Lord Mayor's Prize, Darren McDonald.
Brisbane Portrait Prize in the past
Of course, this isn't the first year Birrunga Gallery has had submissions into the BPP or been represented in the Brisbane Portrait Prize Finalists Gallery. Last year, Birrunga's work 'Burundhang Gunhungurran' or 'Night Rainbow' won the 2021 Packer's Prize, chosen by the staff and volunteers who unpacked and hung the exhibition.
The sitter for this artwork, which is what we call the subject who "sat" for the portrait or who the painting is of, is Gungarri / Butchulla man, Zane Saunders.
Birrunga created Dark Rainbow after seeing Zane's performance of the same name.
"The white is skin and the turquoise is ochre. This work portrays him as energy, it is as I see him. The area of the throat is absent of colour to denote Zane's silence in his performances."
"I hold Zane in the highest regard. This work is based on who Zane is to me and how I feel about him culturally, in his custodianship and as a creative."
2022 is also not Kane's first year as a finalist. Pictured below is Kane's submission from the 2021 Finalists Exhibition, a portrait of former professional Rugby League player Steve Renouf.
"Uncle Bucko has had a connection to the area of so-called Brisbane since spending time here with his sisters while on school holidays, going on to sign and play with the Brisbane Broncos, and now as an Ambassador for the Australian Diabetes Educators Association and Deadly Choices. Both Uncle Bucko and myself are proud Gunggari, Kabi Kabi/Gubbi Gubbi men."
The portrait shows Renouf in the surrounds of country near Murgon, which holds memories of times spent with family and friends. "In this space Uncle Bucko spoke stories of growing up here and of Nan and Pa Renouf," – Kane Brunjes.