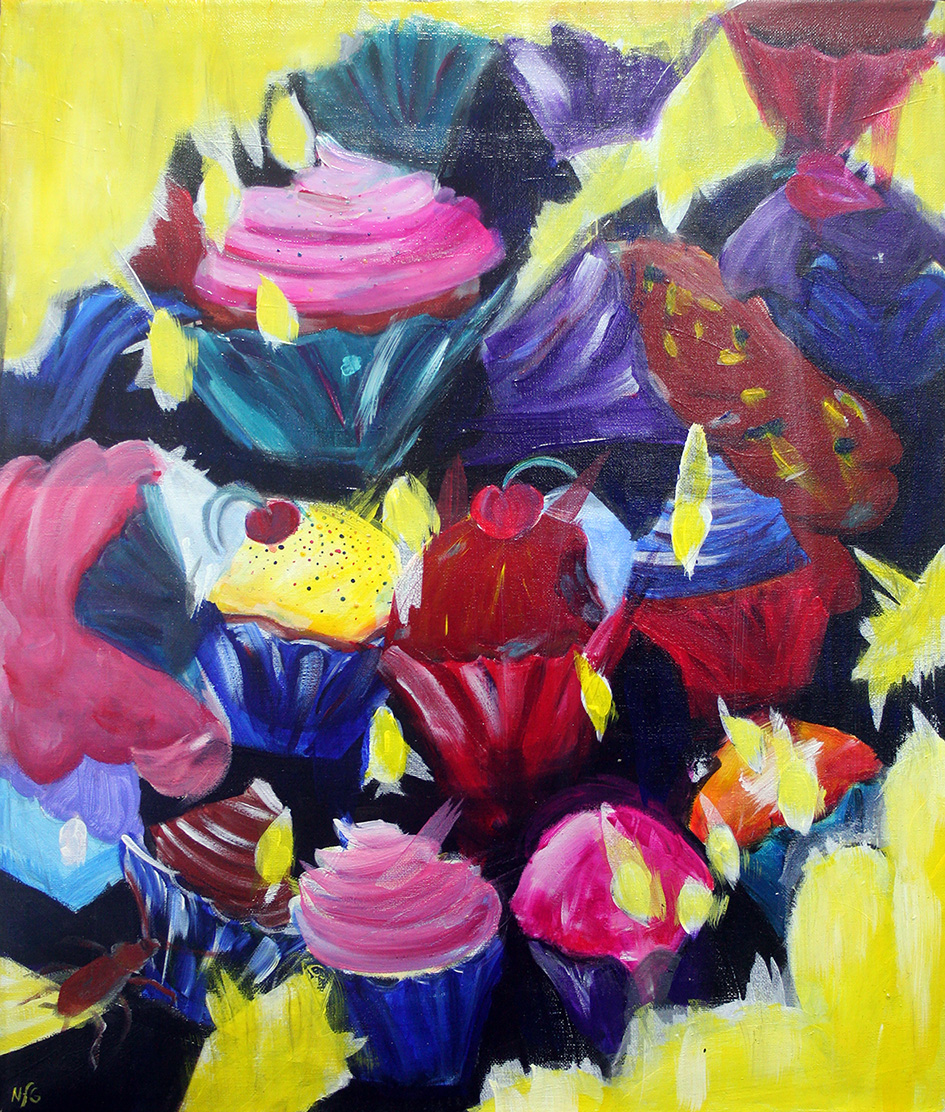 NAOMI GREEN
Belbora
2022
acrylic on canvas
50 x 60cm
This painting is about a tragedy that occurred in at Belbora, NSW. In 1833/1834 much of the land of the local Aboriginal people had been cleared for agriculture. Consequently, food was scarce and the Worimi and Biripi people had begun scavenging food from the huts and farms of the new settlers. Frustrated with this the local farmers devised a plan. They prepared loaves of damper and laced them with dingo bait. The starving Aboriginal people either ate the bread or, took it home to share with their families. 1 The estimated number of deaths resulting from this incident varies, however, according to one account "the gully was thick with bodies from the arsenic poisoning"2. Appropriately, the name of this region "Belbora" means 'place of evil' in Kattang, the language of my people.

I used cupcakes to tell this story because they put the event in a contemporary context. It can be too easy to dismiss events which occurred in the past. I wanted to challenge viewers to think about the horror of this event as if it happened today. I also chose to use cupcakes because they are symbols of wealth, privilege, and celebration. After all, when told that the French people didn't have enough bread to eat, Marie Antoinette is rumoured to have said "well then let them eat cake".

I wanted to portray this story for several reasons. This tragedy took place in a very small, unpopulated, rural community in NSW, where both my Aboriginal and non-Aboriginal ancestors lived for many generations. As an Aboriginal woman of mixed descent, the thought that my ancestors were likely both the perpetrators and the victims in this tragedy affects me deeply. By portraying baited cupcakes this painting depicts both those who cooked and poisoned them, and those who ate and died from them and thereby reflects my struggle with my mixed identity. I was also affected by the knowledge that despite living in and visiting this part of NSW many times during my life, I only learnt of this event very recently.

Unfortunately, much of Australia's history remains untold, white-washed and censored. For healing and reconciliation to take place, we need an honest and open recognition of Australia's past. 1 Geoffrey Bloomfield, Baal Belbora: The End of the Dreaming, 1986, p.119-121. 2 The Land, 27 July 1938, 33.