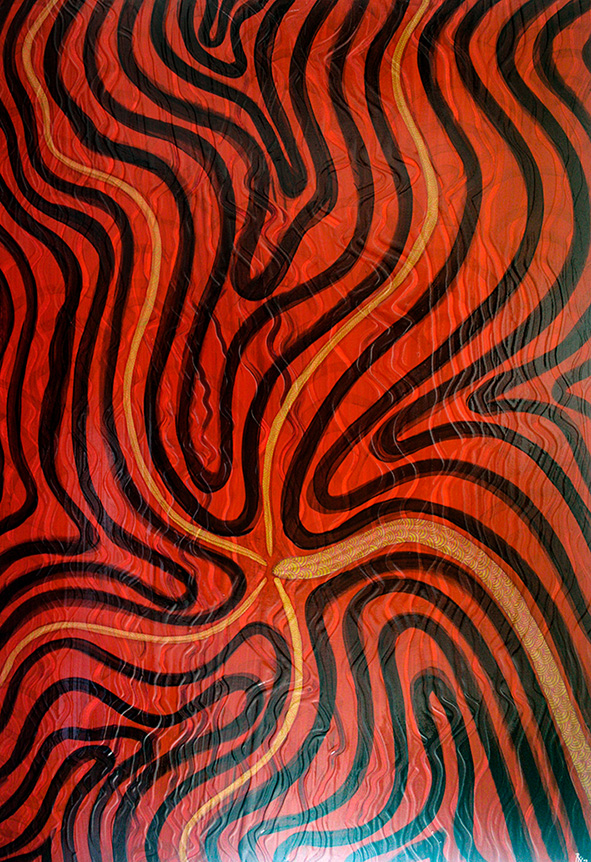 BIRRUNGA WIRADYURI
bulangumbaay mulan ngumbaay girlang
(3 parts 1 story)
2022
acrylic on canvas
101 x 152cm
1 of 3
When the time was right, Wiradyuri boys of initiation age, for whom it was Lore to train to become an elite warrior were brought from across Wiradyuri ngurambang to a particular place of gathering on the base of our sacred mountain Wahluu.

They came from the north, west, south and east of Country along specific paths converging at the gathering area. This area holds many sacred trees including scarred trees and is a place of great energy.

When the time was right, Wiradyuri women who were Knowledge Holders and Lore Women for this ceremony gathered the boys and began the ceremonial journey up Wahluu for the next aspect of the initiation process.

The 4 thin paths denote the escorted travel of the boys from across Wiradyuri Ngurambang converging at the holding place.

The broader path that leads off and down to the right denotes the Women Knowledge Holders and Lore Women beginning the journey into the next part of the ceremony in taking the boys up Wahluu.

The 5 band crosshatch that runs counter-clockwise around the edges of the canvas represent our sacred white ochre, our sacred ceremonial smoke and our Wiradyuri Central Lore of Yindyamarra. The 5 band crosshatch present on the paths represents Yindyamarra. Red is for the novice boys.