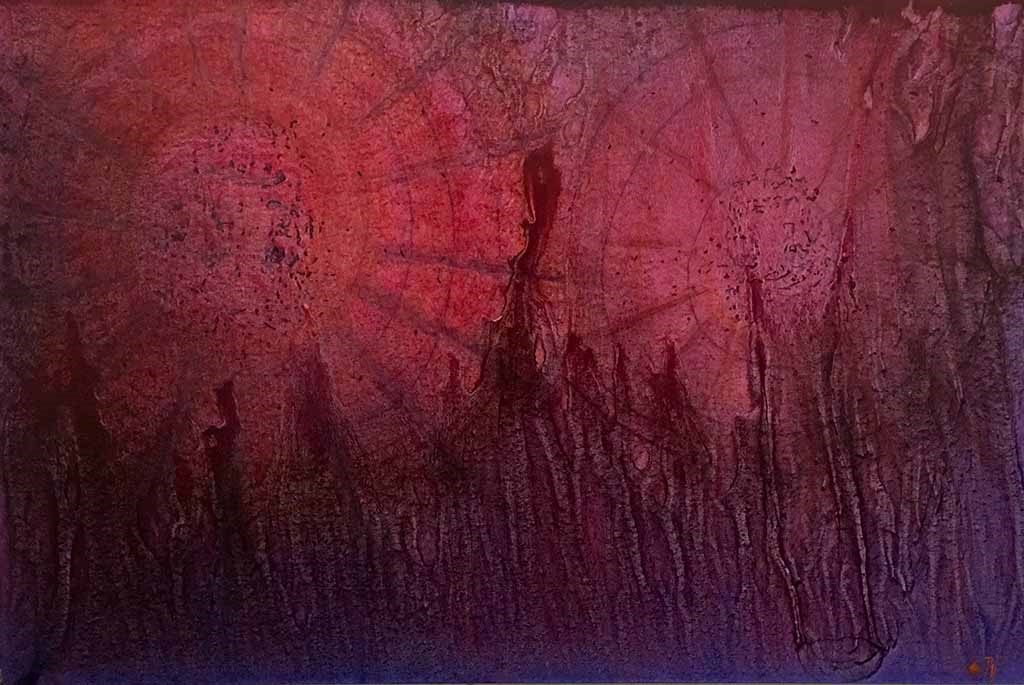 BIRRUNGA WIRADYURI
Wiraybul Dhulugarra
2017
acrylic & pastel on canvas
100 x 150cm
In 1841 two First Nations men Mullan and Ningavil were convicted of the murders of colonists William Tuck and Granville Stapylton and sentenced to execution by hanging at the old windmill in Brisbane. Andrew Petrie erected a scaffold for the task and it was later noted that the gallows were designed specifically for a 'short drop' execution as opposed to 'long drop' where death is relatively quick due to severing of the spinal chord via broken neck vertebrae.

Short drop executions resulted in an excruciating death by prolonged strangulation, evident and present in both men by post-mortem reports of bulging eyes and protruding tongues. It was after the deaths of these two men, and of their co-accused Bimmatu who died in prison awaiting trial, that evidence came forward that they were not good for the crimes they were charged with and murdered for. Many other men died because of the inhumane practices of punishment by walking the treadmill in the Windmill.

This piece depicts Mullan and Ningavil as two bright lights, set free, the sails of the old windmill, the various figures of those who died in the foreground and the figures of the Petrie and Co in the top right corner. It is also to speak to the death in custody of Bimmatu. The aim of this piece is to bring peace to the families of those men by publicly and historically remembering them as men innocent of wrongdoing and by naming the injustice that took them from us.