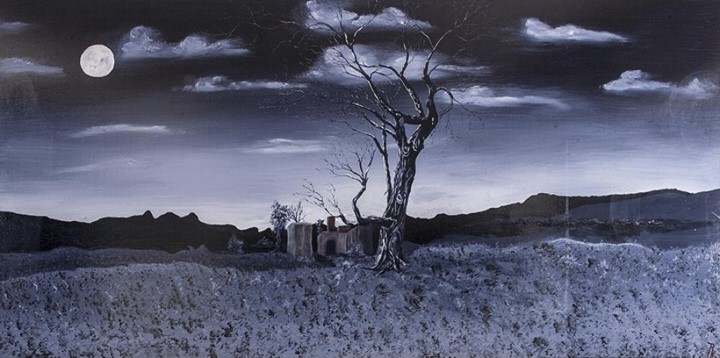 BIRRUNGA WIRADYURI
Murrin Giban
2013
acrylic on canvas
92 x 183cm
Wyndradine led a party of Warriors to the property of the colonial family said to be responsible for the death of his family. He was looking for payback under traditional law. When they arrived at the slab hut it was night time. The sole inhabitant of the hut on that night was a 19 y/o boy, the youngest son of the family. The Warriors set to the boy and began to inflict damage when the boy spoke in Wiradyuri language and stopped the Warriors from completing the task. Wyndradine knew this boy was not the person who had killed his family and according to law was not to be harmed.

The humanity of the traditional lore of Wiradyuri Culture and the honour of the great Warrior and freedom fighter Wyndradine in the face of the relentless brutality of colonisation is the focus of this piece. To this day Wyndradine is one of the very few Warriors formally recognised by the military of the colonial army.

Wyndradine was buried on this property some years later as a relatively young man. He was buried in traditional manner in a sitting position facing east so as to greet the morning sun each day.

The descendants of that 19y/o boy, who became Wyndradine's friend in life, still occupy that land and were instrumental in assuring that Wyndradine's resting place can never be disturbed.